Freezing weather hits eastern Europe
Comments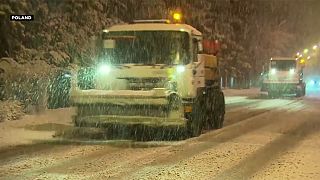 Emergency teams in Poland are racing to restore power following high winds and heavy snow.
Around 180,000 homes are reported to have been left without electricity, while authorities are also working to clear roads and railway lines.
The situation is said to be especially bad in Poland's southern provinces.
Police reported at least two homeless men had been found dead.
The cold snap, which is expected to last for at least the next few days, has also affected other eastern European countries, notably Romania.
A weather warning is in place across most of the country with icy roads making driving particularly hazardous.
Dozens of cars have been destroyed by fallen trees.
The bout of winter weather has also hit Hungary.
While the country has yet to see any major snowfall fierce winds have toppled trees and power lines.