Syrian army breaks through into key al-Sakhour district of eastern Aleppo
Comments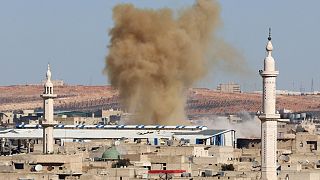 Rebel-held territory in eastern Aleppo has been split in two after Syrian government forces captured the key district of al-Sakhour.
The Britain-based Syrian Observatory for Human Rights confirmed it had fallen to the Army, as part of a wider, advance that has driven rebels out of a third of the area in recent days.
The Syrian military and their allies launched a major operation in the east of Syria's second largest city in September. This weekend alone (November 26-27), heavy fighting forced thousands of civilians to flee, while hundreds of families within the besieged districts have been displaced.
Government forces are now said to be working to dismantle explosive devices and mines in the area.
Eastern Aleppo has been under the control of rebels opposing President Bashar al-Assad for four years.
The United Nations says hundreds of thousands of people are in need of assistance, including at least 100,000 children.