Lufthansa cancels 1,700 flights as two day pilots' strike looms
Comments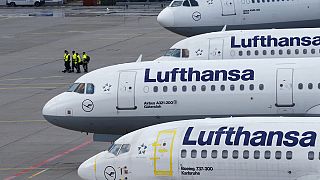 Making the most of Monday's flights from Frankfurt, passengers with Lufthansa are facing fresh misery on Tuesday and Wednesday with more strikes announced by the airline's pilots.
Negotiations after last week's four-day walkout have failed to settle a long-running dispute over pay that has cost the carrier hundreds of millions of euros.
"Lufthansa has put forward several proposals… Unfortunately the union has interrupted the talks," said airline spokesman Martin Leutke, denouncing pilots' demand for a retrospective salary rise amounting to 20 percent.
"This could not go on and two more days of punishment are coming which is very disappointing for us."
Travellers face another week of chaos as Lufthansa pilots resume strike https://t.co/GGZROtyI4ipic.twitter.com/h2WO8bP6Km

— The Telegraph (@Telegraph) 28 novembre 2016
But the 'Cockpit' pilots union, seeking average annual pay rises of 3.7 percent
backdated to 2012, is laying the blame with the German airline.
"We have been negotiating for four years now," said union spokesman Jörg Handwerg.
"We reject the accusation that we are not willing to compromise. We have already gone many, many rounds with Lufthansa. We have always tried new beginnings. Nevertheless there is still no negotiable offer on the table."
#Lufthansa cancels 1,700 more flights due to strike https://t.co/lG7X59I1knpic.twitter.com/ht8llYGNvR

— DW - Business (@dw_business) 28 novembre 2016
A court in Munich on Monday rejected a request by Lufthansa to issue a temporary injunction averting the strike.
Passengers must now brace themselves for the cancellation of some 1,700 flights over the next two days.
Pilots have said that short-haul flights will be affected on Tuesday with both short and long-haul flights hit on Wednesday.