Siege of Aleppo: battle reaches crescendo
Comments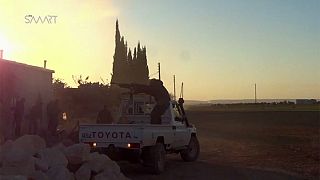 Syrian pro-government forces are believed to have reclaimed the largest rebel-controlled district in Aleppo.
East Aleppo's Hanano district was said to have been taken by the Syrian Arab Army after a three day battle with a number of rebel groups.
Reports suggest that President Bashar al-Assad's army is close to taking back Syria's second city, which has been divided roughly in two since the outbreak of civil war in 2012.
Syrian Army fully captures Hanano district in eastern #Aleppo – Map update https://t.co/6Noy2W66z9

— Al-Masdar News (@TheArabSource) November 26, 2016
The rebels blame intense airstrikes – which are reported to have killed over 500 civilians since the latest wave of bombing began two weeks ago – and dwindling supplies for their collapsing frontline.
The Assad regime's siege of the city, where 90,000 children remain trapped, is reaching its climax, with many believing the end is nigh for rebel Aleppo.
The father protects his children from death .
Here #Aleppo#StandWithAleppopic.twitter.com/uJ3qc5ytvU

— Shero Alo (@SheroAlo1) 26 November 2016
Government forces are surging across the city centre, effectively splitting the rebel-held east of the city in two, and with only an estimated ten days worth of food left in the besieged city.