Lufthansa group hit by wave of industrial action
Comments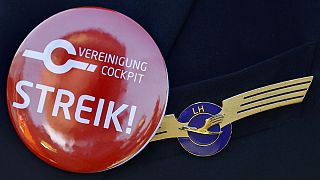 In Germany, cabin crew at Lufthansa's low-cost carrier Eurowings have gone on strike forcing dozens of flight cancellations.
The dispute over pay saw staff walkout at the airline's Dusseldorf and Hamburg hubs. In total, around 60 Eurowings flights were grounded on Tuesday.
The industrial action comes ahead of a more damaging strike by pilots at parent company Lufthansa. That is expected to result in 900 flight cancellations on Wednesday.
In Dusseldorf, passengers travelling with Eurowings had mixed feelings about the 15-hour strike.
''I can't really say much if they haven't had a pay rise in seven years. It's fair to expect a certain percentage increase. Whether it needs to be seven percent or not – I would also like a pay rise,'' one passenger said.
"Of course, the problem is that it's the travellers who always pay. We wanted to go to Zagreb and though we don't have a specific timetable, it's eating into our holiday," said another.
Wednesday's larger walkout at Lufthansa is expected to bring widespread travel chaos to Europe's skies, with the German airline saying its long-running dispute with Unions will affect around 100,000 passengers.