Socialist Rumen Radev is Bulgaria's new president
Comments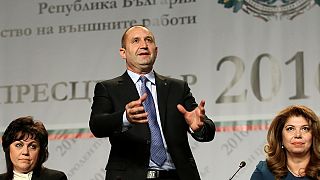 As official results confirm, Rumen Radev will become Bulgaria's next president while the ruling government has resigned.
Radev, the former commander of Bulgaria's Air Force, is a relative newcomer to politics and is supported by the opposition socialist party.
His election is seen as a boost for Russia and a let down to western allies, as he is considered to be Russia-friendly. Radov has called for an end to EU sanctions against Russia. He has also expressed his interest in balancing Bulgaria's commitments to the European Union and NATO, while maintaining a mutually beneficial relationship with Russia.
Meanwhile Bulgarian Prime Minister Boiko Borisov has submitted his minority government's resignation to parliament after exit polls showed his party was losing badly.
Many Bulgarians have felt frustrated with his centre-right government's handling of corruption and are disappointed with the European Union. Many are also keen to develop closer ties to Russia in hopes this will improve Bulgaria's economy. However, months of political instability may follow as Borisov's resignation is likely to trigger a spring election.
Radev won 59.4 percent of the vote, compared with 36.2 percent for his opponent Tsetska Tsacheva, the 58-year-old candidate of the ruling GERB party.
Radev, 53, will take office for a five-year term starting on January 22 of next year.