US election results: early lead for Trump after midnight voting in New Hampshire
Comments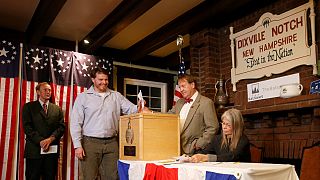 The first results have been counted in one of the most contentious US presidential votes of recent times.
Across three New Hampshire towns where the polls opened at midnight, Republican Donald Trump came out ahead by 32-25.
However, the very first result, coming from Dixville Notch, saw Democrat Hillary Clinton initially slip into an early lead.
She received four votes, to Trump's two. Libertarian Gary Johnson came out with one vote in the tiny town and there was one surprise write-in ballot for Mitt Romney.
#DixvilleVotedpic.twitter.com/LkEgNnYnl0

— Dixville Vote (@DixvilleVote) November 8, 2016
Dixville Notch has historically been the first to cast and count its ballots. And this year was no exception.
Under state law, communities with fewer than 100 voters can request permission to open the polls at midnight and close them as soon as all registered residents have voted.