New York ahead of 'decision day'
Comments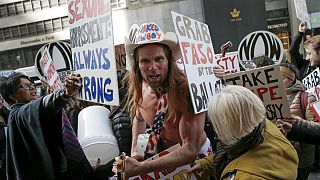 One of the most aggressive US presidential campaigns in modern times has certainly produced strong opinions on both sides of the political divide. Euronews asked people in New York who they were supporting and why.
"Donald Trump works for the people. Not for women not for Blacks, not Latinos, not all these little fringe groups, for America first," said a Trump advocate in New York.
Another, carrying a placard with the message "Vote for Clinton", didn't hold back in his opinion of rival candidate Donald Trump.
"He's been operating in this city for 40 years and he's been arrogant, bossy and apart from every other short-coming that he has, he's a jerk."
But the view from abroad among some tourists was that Americans are being faced with an unenviable choice for their next president
"The two alternatives are not the best but … there is Trump who is a kind of weird guy with weird ideas, so Hillary Clinton is the second best. I guess she's the best option but not the best candidate at all," said a tourist from Spain.
Both candidates are regarded as New Yorkers, Trump was born there and Clinton is a former New York senator. Both will be in city when they hope to be declared the US's 45th president. Euronews correspondent Stefan Grobe who has been covering the campaign from the beginning, set the scene for election day:
"It's crunch time, finally. Americans are going to chose their next president among the two most unpopular candidates ever. The race isn't over until it's over. While Donald Trump is flying around the country in pursuit of any path to victory, Hillary Clinton is piling resources into her firewall states. Right now Donald Trump has the enthusiasm and Hillary Clinton has the organisation to lock this thing up. Can Trump pull an upset victory, can Hillary Clinton become the first woman president? The answers are just hours away, finally."