Trump keeps in 'attack mode' until the end
Comments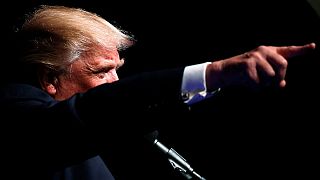 Donald Trump ended a race round battleground states late Monday night just hours before America went to the polls in the 2016 presidential election.
Before winding up his campaign in Michigan he spoke to supporters in New Hampshire appealing to disaffected voters and once again attacking rival Hillary Clinton.
"Can you imagine having Hillary Clinton for 4 years, can you imagine? Hillary Clinton's only allegiance is to herself her donors and her special interests. My only special interest is to YOU, that's why I'm doing this."
His daughter Ivanka, who some have described as Trumps best campaign asset, was on hand to lend her support.
"I am so incredibly proud of him for what he's accomplished today. I know tomorrow will be another great day. And then he will get to the real work of making this country great, of working for you the American people and he will never ever let you down."
.IvankaTrump</a> in Michigan: 'This is your movement' <a href="https://t.co/0Sa7huoOP1">https://t.co/0Sa7huoOP1</a> <a href="https://twitter.com/realDonaldTrump">realDonaldTrumppic.twitter.com/cMXEqSHuDj

— The Detroit News (@detroitnews) November 8, 2016
Despite last polls giving Clinton a narrow lead, Trump remains confident. He believes that his popularity among non-college educated whites plus undecided voters will help him cause a major upset and give him the presidency.