No evidence of criminal activity surrounding Clinton's emails - FBI
Comments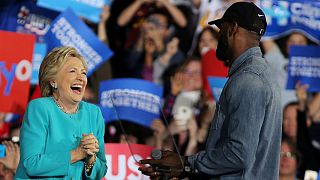 After rocking Hillary Clinton's campaign momentum with a probe into a new batch of emails, the FBI has revealed it has found nothing suspect and that the investigation is now over.
Last month, only 11 days before the presidential election, FBI Director James Comey sent a letter to Congress informing them that agents had discovered emails "that appeared pertinent" to the bureau's months-long investigation into Clinton's use of a private server while she was secretary of state. The move was highly controversial coming so close to the election.
The new emails were discovered on a laptop belonging to Anthony Weiner, a former congressman and New York mayoral candidate who is the estranged husband of Huma Abedin, a close aide to Clinton. Weiner is under investigation for allegedly exchanging sexually explicit messages with a minor.
However in a second letter on Sunday, ( Nov. 6) the FBI chief said he'd found nothing to alter the conclusions reached in July that no criminal charges were warranted against Clinton for her use of a private email server for government work.
Breaking – new letter from FBI Director Comey says conclusions re Clinton server from July have not changed pic.twitter.com/QxAMSMah1H

— Jake Tapper (@jaketapper) November 6, 2016
Republicans, however, did not ease up on their criticism of Clinton.
"She simply believes she's above the law and always plays by her own rules," House of Representatives Speaker Paul Ryan said in a statement, arguing that Clinton's use of a private email server "compromised our national security."
One Clinton aid has said it hoped the FBI's latest findings were now the end of the matter although another called for an investigation into the FBI's handling of the affair.
News of the renewed probe had appeared to fuel a recent slide in Clinton's poll numbers. The latest Reuters/Ipsos poll showed Clinton with a 5 percentage point lead over the New York businessman nationally – 44 percent to 39 percent support – while races in the swing states of Florida and North Carolina shifted from favoring Clinton to being too close to call .