Trump calls for justice at the ballot box
Comments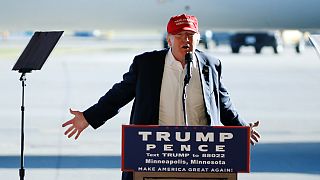 Donald Trump claims the FBI has let his rival "get away with it" following the bureau chief's announcement of there being no evidence of crime in Hillary Clinton's emails.
On Sunday afternoon, FBI director James Comey released a letter to Congress that said the bureau had found no evidence of wrongdoing by Clinton in its review of emails discovered during an investigation into charges against Anthony Weiner, estranged husband of key aide Huma Abedin.
The FBI review related to Clinton's use of a private email server while secretary of state, an issue over which the bureau had previously decided not to recommend an indictment.
The Republican presidential nominee was less than impressed by the FBI's chief.
"Right now, she's being protected by a rigged system. It's a totally rigged system, I've been saying that for a long time. You can't review 650,000 new e-mails in 8 days, you can't do it, folks. Hillary Clinton is guilty, she knows it, the FBI knows it, the people know it and now is up to the American people to deliver justice at the ballot box on November 8."
Thank you Michigan! This is a MOVEMENT that will never be seen again- it's our last chance to #DrainTheSwamp! Watch: https://t.co/jggCr7AZGmpic.twitter.com/Fd11eK876G

— Donald J. Trump (@realDonaldTrump) November 7, 2016
Meanwhile Clinton was pulling out all the stops, focusing on swing states and calling on celebrities like basket ball player Lebron James to endorse her.
But on the topic of emails she stayed well away:
" Look we know enough about what he says and what he's done, you don't need to go through the litany of all the people he's insulted and demeaned but the bottom line is his vision of America is so dark and divisive. It's not the America I see as I travel around our country. I want us to have a vision that is hopeful."
"What's really on the ballot is what kind of country we want for our children and grandchildren." —Hillary pic.twitter.com/ihTi53NFJO

— Hillary Clinton (@HillaryClinton) November 7, 2016
Both candidates are now sprinting towards the Monday midnight finishing line of one of the most bitter and aggressive US presidential campaigns of modern times.
Seeking to become the first female president, Clinton will end her campaign with a rally in the battleground state of North Carolina at midnight on Monday. Republican candidate Trump will close his at 11pm that night with an event in Grand Rapids, Michigan, a state where he is hoping to pull off a huge surprise.