Protesters highlight New Delhi's soaring air pollution ahead of COP22
Comments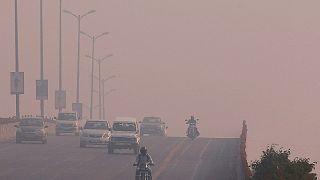 As leaders and experts prepare to meet at the COP22 climate conference, protesters have been out in force in New Delhi to highlight the city's soaring air pollution.
The government has closed all schools, halted construction and ordered all roads to be doused with water to settle down dust.
One man said: "I have been a citizen of Delhi for thirty years, never never have I felt this way. Especially, you are on the ground level it's better, you go up to a third storey, fourth storey roof, you have to take three steps backwards."
A woman added: "The public needs to be aware that our children are suffering, we are all suffering. Our children can't go out there and climb trees, we make large parks for the children to play in our schools, but we can't send them out.
"We have red days, the children are locked behind doors, prisoners behind their masks."
The Indian capital is one of the world's dirtiest cities. On Saturday, it saw levels of tiny particulate matter that can clog lungs soar to over 900 micrograms per cubic metre.
That is more than 90 times the level considered safe by the World Health Organisation – and 15 times the Indian government's normal levels.