Spain's royalty on show for Asturias Awards
Comments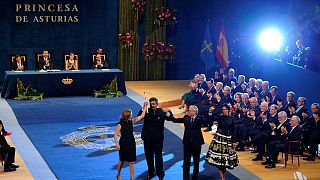 Spain's King Felipe and Queen Letizia presided over a star-studded ceremony in Oviedo for the 2016 Princess of Asturias awards.
The veteran Spanish actress and director Nuria Espert took the Arts award while the charity SOS Children's Villages was given the Concord prize for helping to support thousands over more than fifty years.
American Hugh Herr took the Technical and Scientific Research prize for his work on bio-mechanical engineering while his compatriot James Nachtwey was recognised for his lifetime behind the lens as a photojournalist.
Richard Ford, who won the Literature award, described the honour as extraordinary: "The we who are writers, we always experience the extraordinariness of what can happen. We know it because we face it on the page every day. Ortega y Gasset wrote, and it's an iconic observation of y Gasset for me to hear, 'life is given to us empty. Simply existing becomes the poetical task.' Receiving life empty is just another way of that anything can happen."
The annual prize giving rewards outstanding individuals and organisations from around the world and this year's eight laureates have undeniably made notable achievements across
the sciences, humanities, sport and public affairs.