Iraq rejects fears of Shi'ite revenge attacks in Mosul
Comments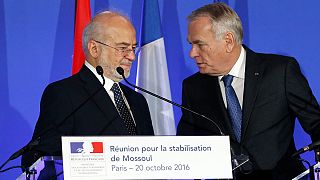 What next for Mosul once the so-called Islamic State has been ousted? Several Western and Middle Eastern countries have come together in Paris to consider just that question.
These forces are sacrificing their children for the liberation of Mosul

Iraqi Foreign Minister
France has a particular interest: its warplanes and artillery are involved in the battle as part of the US-led coalition backing the Iraqi campaign.
Foreign ministers and senior diplomats are seeking to put together guidelines about how to govern the city, while protecting civilians and providing aid.
Iraq's foreign minister dismissed fears about possible revenge attacks from elements within coalition forces.
"There is no need to worry regarding the presence of the popular movement, the "Shi'ite militia". These forces are sacrificing their children for the liberation of Mosul. All those who say that the popular movement forces commit crimes or murders, it's not true, let them show proof. Everyone is fighting under the control of the Iraqi army. These forces will go back home once this exceptional situation is over,"said Iraqi Foreign Minister Ibrahim al-Jaafari, speaking a news conference alongside his French counterpart Jean-Marc Ayrault.
The summit comes a few days before coalition defence ministers are due to meet, also in Paris, to take stock of the battle for Mosul.
President Hollande has warned that ISIL militants fleeing the city should be pursued within the bounds of international law.