Iraqi and Kurdish forces secure more outlying villages on road to Mosul
Comments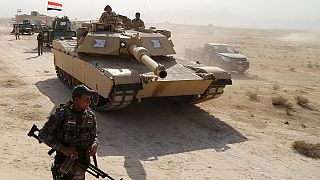 Iraqi and Kurdish Peshmerga forces claim to have secured yet more villages on the outskirts of Mosul as they head towards Iraq's second city.
In their pursuit of ISIL militants the Iraqi forces are fighting on southern and southeastern fronts while the Peshmerga are carrying out operations to the east.
Why do so many inside and outside Iraq consider Mosul a turning point? https://t.co/BiqI7mltDepic.twitter.com/1ujoyJRRPt

— The Economist (@TheEconomist) October 18, 2016
But air support from the US-led coalition has been hampered by smoke from oil fires started by the militants.
Nevertheless senior Kurdish official Hoshiyar Zebari stressed the campaign must not be a protracted affair:
"Speed should be the key element of this operation. The sooner the better, to prevent, to avoid, a major humanitarian exodus or complexities that nobody needs.
Complexities such as ISIL using civilians as human shields. There are reports of families being forced to stay in buildings likely to be targeted by air strikes.
With attacking forces still between 20 and 50 km away, residents reached by telephone said more than 100 families had started moving from southern and eastern suburbs most exposed to the offensive to more central parts of the city.
Islamic State militants were preventing people fleeing Mosul, they said, and one said they directed some towards buildings they had recently used themselves.
"It's quite clear Daesh (ISIL) has started to use civilians as human shields by allowing families to stay in buildings likely to be targeted by air strikes," said Abu Mahir, who lives near the city's university.
"They use our people as human shields." Reporting from the march on Mosul https://t.co/rdwHfAhc6o

— Financial Times (@FT) October 18, 2016
With the leader of ISIL and thousands of hardliners still in the city, it suggestes the group wont be giving Mosul up easily.