Serb nationalist is elected Srebrenica mayor
Comments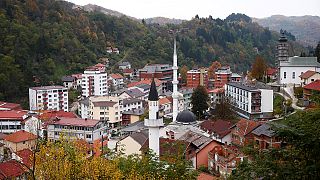 Bosnian Serb Mladen Grujicic has been elected mayor of Srebrenica where thousands of Muslims were killed by Bosnian Serbs during the 1990s.
Grujcic is the first Serb nationalist to hold the job and won with over 54% of the vote.
The outgoing Muslim mayor Camil Durakovic has complained of voting irregularities and warned of possible discrimination against the towns Bosniaks.
Grujicic who denies the killing of 8,000 men and boys was genocide, has assured the public that the town hall will continue to help commemorate the Srebrenica massacre while trying to bring communities together.
But victims' relatives say the election is a cause for concern.
Tensions in Bosnia have been particularly strong this year, intensified by the decision of the country's Serbs at a referendum last month to continue celebrating their "national holiday" – despite Sarajevo authorities ruling the holiday and the plebiscite illegal.
The Dayton peace accords that ended the war in 1995 split Bosnia into two semi-independent entities – the Serb-run Republika Srpska (RS) and a Muslim-Croat federation – linked by weak central institutions.
Srebrenica elects as mayor Serb who denies massacre was genocide https://t.co/U5rV63PthZ

— The Guardian (@guardian) October 17, 2016
The election of #Grujicic as mayor of #Srebrenica is a sign that the Serb campaign of ethnic cleansing Bosniaks has achieved its objective pic.twitter.com/8uqmiz1liP

— Jeffrey Bačić (@jeffreybacic) October 17, 2016