Retaking Mosul: what are the possible consequences?
Comments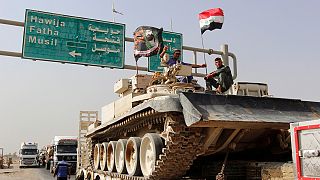 As the fight for Mosul rages on, leaders outside Iraq are discussing the possible, potentially damaging, consequences of retaking the city from ISIL.
Foreign Ministers from a number of Western and Middle Eastern countries will meet for talks in Paris on Thursday, October 20.
The ISIL jihadist group will continue to control parts of the north and east of Iraq, even if it is pushed out of Mosul.
Threat to Syria?
Syria has already accused the US-led coalition of plotting to allow militants to cross into the country from Iraq. Russia, too, has highlighted the possibility of an influx in entry numbers.
However, countries in Western Europe couldn't seem to agree on a stance.
Threat to Europe?
Germany's Interior Minister, Thomas de Maizière, didn't appear to express any greater concern than he had prior to the Mosul offensive.
"I don't see any additional threat to Germany from the fight against ISIL. The threat is already high and it's right that we should combat ISIL militarily," he told a press conference in Germany.
But Julian King, the EU's Security Commissioner, said Europe should be prepared for the "serious threat" the return to the continent of even a small number of jihadists would pose.
"We need to redouble, as the minister said, the work we're doing to strengthen the controls that we exercise on our borders, including for EU citizens. And we need to make sure that we're doing everything we can behind our borders through effective cooperation between the different law enforcements".
King said some 2,500 fighters from the EU are currently in the combat zones in the region, but did underline that "a mass exodus of ISIL fighters to Europe" was "very unlikely."
Concerns on the ground
The people of Mosul have expressed concern about the immediate aftermath of their city being recaptured. Some are worried about the involvement of Shia militiamen, a group alleged to have committed sectarian abuses in cities that have previously been retaken.
In an attempt to assuage their fears, Iraqi Prime Minister Haider al-Abadi said only Iraqi security forces would be allowed to enter the city.