Dozens killed in Baghdad suicide blast
Comments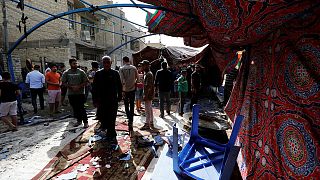 Dozens of people have been killed in Iraq following multiple attacks in Baghdad and across the country.
The deadliest blast took place in the north of the Iraqi capital when a suicide bomber targeted a funeral tent. It was also filled with people taking part in Shi'ite Ashura ritual at the time of the explosion. At least 41 people were killed and scores injured.
ISIL later claimed responsibility for that attack as police reported another 12 people had died at the hands of militants in two separate incidents in Baghdad.
The escalation in violence comes as Iraqi forces continue to prepare for a major operation to retake the northern Iraqi city of Mosul.
Elsewhere in Iraq, eight people were killed by a suicide blast on a police station in Tikrit while the wife and three children of a local commander in Ishaqi district were also shot dead by militants.