Abdeslam stays silent, his legal team gives up
Comments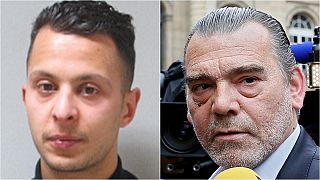 Lawyers acting for the main suspect from last year's militant attacks in Paris say they will no longer defend him.
One of his legal team has told French media Salah Abdeslam plans to exercise his right to remain silent.
His lawyers Frank Berton and Sven Mary say he does not want to talk and no longer wants legal representation.
Lawyers for the main suspect in the Paris attacks, Salah Abdeslam, say they will no longer defend him https://t.co/sUISbOtxGm

—

AFP

news agency (@AFP) October 12, 2016
Salah Abdeslam
After four months on the run, Salah Abdeslam was arrested during a high-profile police operation in the Brussels neighbourhood of Molenbeek on March 18.
He has been held in solitary confinement near Paris since being transferred to France on April 27.
He faces terrorism charges however this latest decision means he has no legal team to defend him.
His lawyers say the 27-year-old is being "driven crazy" by the 24-hour camera surveillance in his high-security jail.
Why is Abdeslam staying silent?
His lawyers say he is refusing to talk because of the constant monitoring.
They say they have repeatedly tried and failed to get this changed.
"We have seen him slide away. Being watched all the time, with infrared at night, that drives one crazy and it is a consequence of the political decision (to put Abdeslam on continuous monitoring)," said his French lawyer, Frank Berton.
Abdeslam's Belgian lawyer, Sven Mary, says the solitary confinement is causing his former client to clam up.
"The real victims of this are the victims of the Paris attacks. They have a right to know," he told reporters.
The Paris attacks
The attacks in the French capital last November targeted:
The Stade de France
Bars
Restaurants
The Bataclan concert hall



130 people died. Scores more were injured.
What they are saying
"We are convinced, and he told us so, that he will not talk and will use his right to remain silent. What can we do? I have said from the beginning, if my client remains silent, I drop his defense," – Lawyer Frank Berton, Salah Abdeslam's legal team