Clashes erupt at anti-India protests after boy's killing
Comments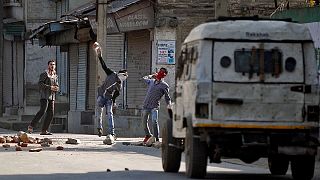 Tensions rise in Kashmir as protesters clash with police in the disputed border region.
Indian forces fired shotgun pellets and tear gas as thousands marched to the burial of a 12-year-old child in Srinagar.
The young boy was injured by security forces at an anti-India protest on Friday, before succumbing to his injuries.
Clashes erupted as young men threw rocks at troops, while another group of mourners changed the route to bury the body.
Kashmir is experiencing its largest demos against Indian rule in recent times, following the killing of a popular rebel commander by Indian forces.