India's 'surgical strikes' along Kashmir border prompt fury in Pakistan
Comments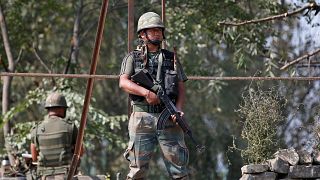 Tensions threaten to boil over in Kashmir after India carried out what it called ''surgical strikes'' along the de facto border with Pakistan.
A senior Indian army spokesman said the operation had inflicted significant casualties on Pakistan-based militants, it claimed were planning a series of attacks.
"The Indian Army conducted surgical strikes last night at these launch pads (along the Line of Control). During these counter-terrorist operations, significant casualties have been caused to the terrorists and those who are trying to support them," Ranbir Singh, Director General of Military Operations said.
But the military assault prompted a furious reaction from Islamabad. Prime Minister Nawaz Sharif condemned the operation as India's 'naked aggression'.
While Pakistan's military denied any strikes had been carried out over the border, it confirmed two Pakistani soldiers had been killed and nine others wounded in crossfire along the Line of Control.
The latest strikes follow a deadly attack against an Indian army base in Kashmir earlier this month, which left 18 soldiers dead. India blamed Pakistan for the assault, something it has denied.
The operation also appears to mark a departure from India's traditional policy of strategic restraint in Kashmir in the face of what New Delhi sees as cross border terrorist acts that it believes are sponsored by Pakistan.
Since Indian and Pakistan gained independence from Britain in 1947 the two nuclear neighbours have gone to war four times and there are fears the escalating tensions in Kashmir could trigger another conflict.