Villagers protest as tensions rise in Kashmir
Comments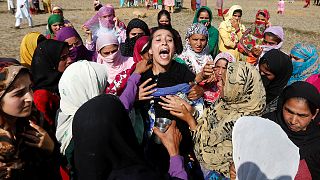 Villagers living along the 'Line of Control' in Kashmir protested against the shelling of their village by the Indian army, as tensions flare between India and Pakistan over the disputed border area.
The neighbouring nations exchanged fire on Saturday morning, with each side blaming the other for firing the first shot.
Living with the threat of violence has taken its toll for resident Muhammad Tauqueer. He says,"it is very difficult for us to live here. You can imagine, the villagers are so worried, the children can't go to school. We are thinking about building bunkers inside houses."
It comes two days after India says soldiers had crossed onto the Pakistani side of the region to carry out a strike on suspected militants. A likely retaliation after a militant attack left 18 soldiers dead in Indian-administered Kashmir a week earlier.
While the UN has offered to mediate, India evacuated 10,000 people from around Kashmir.
Dozens of camps have been set up to accomodate those leaving the border areas. Many are leaving amid fears the tensions may escalate further.
In Pakistan, major cinemas have banned the projection of Indian films as an act of solidarity with its military, and say they won't screen Bollywood movies until relations return to normal between the two countries.