Spain: Socialist leader Sanchez quits, paving way for end to political paralysis
Comments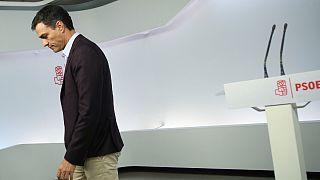 The embattled leader of Spain's opposition Socialists resigned on Saturday, clearing the way for a possible end to nine months of political deadlock in the country.
Logically, I cannot manage a decision that is not mine

Former Spanish Socialist leader
Pedro Sanchez had repeatedly frustrated attempts by rival conservatives to form a government after inconclusive elections. His party, however, believes that strategy must change.
Having pledged to go if he didn't get his way, Sanchez announced his resignation, acknowledging
the Socialists' executive had chosen a different path from his own.
"Logically, I cannot manage a decision that is not mine," he said.
Spain's Socialist leader Pedro Sanchez steps down to clear way for formation of government https://t.co/Vze6PLPflj

— Telegraph News (@TelegraphNews) 1 octobre 2016
Mass resignations in the party last week were aimed at forcing Sanchez out over his blocking tactics.
Acting Prime Minister Mariano Rajoy wants to form a minority administration, after his conservative People's Party (PP) won most votes in two inconclusive polls but fell short of a majority.
Sanchez's departure means that government could now take shape – and a third election could be avoided.
Members of the bitterly divided Socialist assembly met on Saturday to decide whether to open up a leadership race in October, as proposed by Sanchez, or oust him.
Shouts from the meeting at the party headquarters in the capital Madrid were heard from outside as members argued over what the vote should be. One person stormed out before the end, saying the party was "broken" and Sanchez eventually lost by 132 votes to 107 after a tumultuous 10-hour debate.
The Socialists will be under interim management until a party conference can choose a new leader.
Party insiders say the powerful head of the Andalusia region, Susana Diaz, is the favourite although it is not clear when a new secretary general will be picked.
with Reuters