Spain's socialists in crisis as party executive revolts against leader
Comments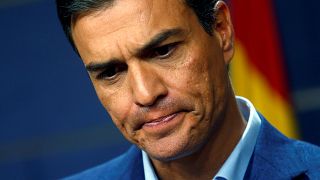 The future of Spain's main opposition socialist leader Pedro Sanchez hangs by a thread after top party officials resigned en mass.
17 out of the 35 member executive committee quit in a bid to force him out.
The internal crisis within the socialists comes after Sanchez failed to form a coalition government.
In Madrid, the president of the party's federal executive committee Veronica Perez said: "When the secretary- general of an executive committee resigns or more than half of its members step down, that immediately means that executive committee is dissolved."
The refusal by Sanchez to form a coalition with acting Prime Minister Mariano Rajoy's conservatives, despite two inconclusive elections, has split the socialists.
Rebels blame their leader for the party's worst ever election results and the rise of left-wing Podemos.
Spain has been in political deadlock for the past nine months.
The rebellion to oust Sanchez seeks to break that stalemate with the clock counting down to a third possible national election in December.