Police fire on protesters in Nairobi
Comments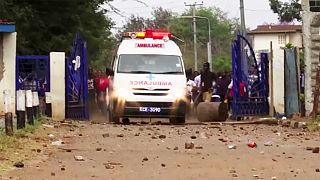 Police clash with protesters
Riot police have reportedly fired live ammunition and tear gas to disperse Kenyan university students protesting over road safety.
The students were forced into the grounds of the university after demonstrating on a main road in front of the campus, blocking rush-hour traffic.
Nairobi police chief Japheth Koome said two students, two police officers and two guards were injured in the disturbance.
Studentsfromthe universityblockedMagadiRoad in protestand cars have been divertedto alternative routes https://t.co/CA5He7tRXSpic.twitter.com/PsXPs6Yv1o

— Nairobi News (@Nairobi_News) September27, 2016


Protest after death of student
Members of the Multimedia University were protesting after four students died in when a minibus taxi overturned at the weekend.
The taxis, known as matatus, are Nairobi's main source of public transport.
Around 100 students accused the matatu drivers of reckless driving which, they allege, is not tackled by police.
Number of road deaths increasing
The National Transport and Safety Authority says the total number of people killed in the first three months of 2016 increased from 2,699 in 2015 to 3,932 in 2016.