Protests over latest fatal shootings by US police
Comments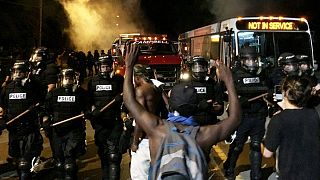 At least a dozen police officers and several demonstrators have been hurt in violent protests following the fatal shooting of a black man in North Carolina.
The unrest began late on Tuesday after Keith Lamont Scott was killed by a black officer after being mistaken for a wanted man.
Despite that, Police insist he posed an 'imminent deadly threat' and had a gun.
That version strongly differs from the 43-year-old's family, who claim he was disabled and didn't have a firearm.
Amid an intense debate in the US over the use of deadly force and racial bias among law enforcement officers, Scott's shooting came only a day after police in Oklahoma also admitted killing an unarmed black man on Friday.
Terence Crutcher was shot in the city of Tulsa after his car broke down.
Video appears to show the 40-year-old walking to his vehicle with his hands in the air before he reaches into his vehicle and police open fire.
Earlier, his family appealed for calm.
"What we're requesting is that there be peaceful protest and that you all respect the culture of our family because we operate and we flow in love and in peace," Tiffany Crutcher, the victim's sister said.
The US Justice Department has said he will conduct a separate investigation into the incident, while Democratic Presidential nominee Hillary Clinton described the contents of the video unbearable. Her rival Donald Trump has yet to issue a statement over the incident.