'Defend', 'invest' ' responsibility': the words that dominated Juncker's 2016 speech
Comments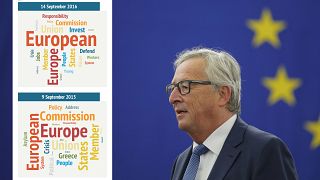 It was a complicated State of the Union debate for Jean-Claude Juncker, the "existential crisis" speech after the Brexit vote, the rise of populism and economic weakness.
Last year we compared Juncker's SOTEU speech with Barack Obama's SOTU speech.
This year we're comparing Juncker 2016 to Juncker 2015.
We've used a wordcloud app to count the most repeated words in both 2015 and 2016 State of the European Union speeches.
Not pretending to be an exhaustive political or even semantical analysis here are some interesting differences between last year's and today's speech.
Worldcloud: Jean-Claude Juncker's State of the European Union speeches compared
Greece is the word no longer
The word "Greece" was pronounced 30 times last year, today once, and not even related to risks of financial meltdown but to explain the deployment of the Frontex mission in the European borders.
The word "crisis" drops to 9 from 27 times repeated last year.
Young people count
Juncker's 2016 speech includes the word "Young" 10 times, a year after having been almost absent. He has urged members to invest in young people. "I cannot and will not accept that the Millennials, Generation Y, might be the first generation in 70 years to be poorer than their parents," he said.
"Invest" seems to be high among this year's priorities, pronounced 22 times this morning against once in september 2015.
It's time for "responsiblity" (14 times vs 1), to "defend" (15 vs 0) and Juncker has talked much more about "jobs" (15 vs 3).
The "system" seems less important (6 vs 16 last year) and there were many more things to "address" (16 vs 3).
Remain European, but less Europe
Among the inevitable euro-centric terms, mentions of "European" remain the same (80 mentions), while "Europe" loses ground (53 vs 89 last year) as well as "Union" (35 vs 59).
Finally, Juncker decided to talk less about of "Commission" he leads (23 vs 57).
Explore
Full wordcloud for the 2016 speech
Full wordcloud for the 2015 speech