You wouldn't be human if you didn't feel fear - Bear Grylls on risk, masculinity and strength from within
Comments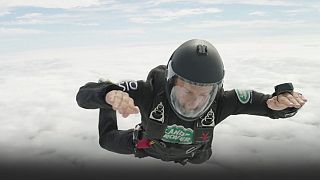 Bear Grylls is one of the most recognisable faces of adventure TV, with shows watched in over 200 countries. He was the youngest Briton to scale Mount Everest at 23 and went on to lead expeditions all over the world.
It proved a successful recipe for TV. He became synonymous with extreme survival techniques including sleeping in a camel's carcass and drinking his own urine. He has now turned his sights on putting celebrities through the paces, most notably taking President Obama on a hike through the Alaskan wilderness.
His latest projects involve a live show telling the stories of his favourite explorers, which saw him training with aerial artists and stunt men, and taking his latest hit TV show to China. He somehow finds the time to write books and take care of his three children. With so much on his plate Grylls' schedule is planned to the minute. Euronews was lucky enough to grab ten of them in between takes as he filmed the latest clip for Land Rover (he is one of their global brand ambassadors).
QUICKFACTS
– Real name Edward Michael Grylls (his sister gave him the nickname Bear when he was a baby)
– Born 7 June 1974
– In 1998, he held the Guinness World Record for the youngest person to climb to the top of Mount Everest, which he conquered at 23. A year before the climb, he broke his back in three places but made a full recovery in time for the expedition.
– TV shows watched by 1.2 billion people in over 200 countries – His No 1 Bestselling book Mud Sweat & Tears was voted the most influential book in China for 2012 – His heroes include Robin Hood, John the Baptist; Sir Ranulph Fiennes
Joanna Gill, Euronews journalist
Skydiving is a relatively dangerous activity. You've said in the past that it's something that still scares you after your accident in 1996? Is that still true?
Bear Grylls
A ton of things still scares me everyday. The danger of TV is that people kind of get the idea that you're not scared of stuff because I'm doing so many adventures but that's not true I struggle with lots of things and sky diving is definitely one of those things that's hard for me. I think you wouldn't be human if … you know I broke my back in three places. I spent a year in and out of military rehabilitation. You wouldn't be human if when that door opens of that plane and you looked down, that you didn't still feel a bit of fear.
Gill
You say you wouldn't be human if you didn't feel fear, but you've been in more hairy situations than the average person. What would you say has been the most difficult, the toughest?
Grylls
There have been so many over years from parachute failures to crevasse falls, mini- avalanches to being pinned in rapids in big white water rivers, to crocs and sharks and being bitten by snakes you name it. But I always try to focus on the good stuff and it's always about getting home in one piece. We always have a mantra as ateam. We get home alive, we get home as friends and we get home successful. In that order.
Gill
You mentioned you have a mantra, but is there anything you do before a dangerous moment like a song or a motto?
Grylls
Well my granddad always used to cross himself when he flew, and I always remembered that. I don't think it was because he was scared I think it was a little mark of respect, you know, flying in those days was a lot more dangerous and I've always done that. Whenever we jump out of the plane. I always give a little sign of the cross and then go for it. So that's my thing and remember at the heart of it never give up. My kids are saying 'Oh papa you're always banging on about 'never give up' but actually it's the heart of everything, the rest is detail.
Gill
You've said you have children's manifesto, that kids need to get out and do things and not stay stuck behind computer screens. With this manifesto are you thinking of a possible political career?
Grylls
No, I'm not going to have a political career, that would be a disaster for the country. But I love the adventures and I love what adventure does for young people. One of my jobs as Chief Scout is all about that, giving kids from all backgrounds the chance to get some adventure and I love it. It's a driving force in my life. That kind of manifesto it's what it gets called, it's all about encouraging young people and girls as well, it's amazing the scouts, seeing more girls joining as they want to be part of the adventure, but I don't want to be a politician.
Gill
Is it important to you being a celebrity to be using it for good?
Grylls
I struggle with that whole celebrity thing, and that cliche of using it to do something good. I think all of us are called to do our best and follow our dreams and some of us have a life in the public eye and some of us don't. It's just our work. It's my job. My real focus in my life is my family and I have three young boys – get back safely to them in one piece, do these things well and take it all with a pinch of salt.
Gill
What's the funniest thing that people say to you when they approach you on the street?
Grylls
Everyone's got a story which I love about how they've climbed some mountain or taken their kids camping. I love that. They often say to me, if I'm in bar do you want a pint of urine? To which I say 'Not right now but thanks for the kind offer'. If somebody said when I was seven that I'd be known around the world for weird things like that I'd think really? But actually it could be way worse and I'm super lucky, I have a job climbing trees, getting muddy, falling out of stuff and that's good.
Gill
You're known for some fairly extravagant adventures, going to the top of Mount Everest where you've been alone (apart from TV crews), is there one adventure that you wish you could have shared with someone and who?
Grylls
I think the summit of Everest is special. It was a real kind of moment . My dad died not long after that and it had been such a dream for us together. I just remember the top of that mountain crying inside my mask. I think part of it was the accident I had been through and doctors not knowing if I was going to be able to walk properly again and all that stuff, and that voice that never really believed I could do it being silenced and I knew that meant a lot to my dad. He was very proud, he lived to see that and he would have loved all of this stuff. He was the guy who taught me to love adventure and to go for things.
Gill
You've made your fortune from redefining masculinity and you've talked to me about crying at the top of Mount Everest. You're sort of redefining masculinity for the modern world?
It feels very grand. I don't think I have. I've just tried to do what I love and say that it's ok to show your feelings and it's ok to struggle with stuff and it's a struggle that makes strength, and that's the way I've tried to operate. If that's masculinity well, good. Its funny on the show The Island they talk a lot about that – masculinity. Is it redefining masculinity. Those guys are broken they really are. It's not a macho masculinity it's very honest. Those people would come off The Island at the end, there's no ego. There's a respect and a great brother and sisterhood between those people that is really wonderful but they've had to earn it. You do it through blood, sweat and tears. So I never think it's about masculinity or femininity it's about self and understanding the real you is stronger than the stuff we dress ourselves with.
Gill
With Running Wild you have both female and male celebrities. What did you learn from them? Did they have different approaches?
Grylls
I've learnt that the girls are often tougher.
Gill
In what way tougher?
Grylls
I think we arrive with expectations that because someone is little and petite and we see them on the front of a magazine or in a movie that they're not going to be strong and it's not true. I take these tiny actress, and it's all about attitude it's about heart. It's not about physicality, it's about that fire inside, that' steely determination to keep going when it's grim, when it's raining, when you're cold, when you're beaten up, when you;re hungry and when you're hurting. And that comes from inside , it's not a male or female thing. I love seeing that in our guests.
Gill
Talking about Running Wild, you had the chance to go with President Obama to a glacier in Alaska to highlight climate change, is that something that worries you?
Grylls
I think it's a concern for all of us. We've only got one planet and we've got to protect it and
look after it. It's amazing to have a US President that has that so high on his agenda to do something lasting. I think Time magazine said, what he's put in place for his climate change plan is the most significant thing ever done in the history of man to protect this planet.
Gill
What was it that surprised you about him?
Grylls
I think that he's normal. I know everyone's normal and my mum said beforehand – when I was nervous she said 'everyone puts on their trousers on one leg at a time'. The machine that surrounds him, the secret service, air force one and all the madness, but as a human being he was incredible and family-centred, faith-led, hard working, humble, bright. I came away a real fan.
Gill
You said you would have liked to take Donald Trump before he entered the Presidential race, how do you think he would fare on an adventure?
Grylls
As I said, I've learnt never to judge a book by its cover – someone once said, will you take Donald Trump and I said 'yeah, we're always open to stuff'. How would he fare? I'm sure he would be good. We all have a bit of ego and if you can leave it behind. But you never know, but that would be an adventure.
Gill
For your next project you're training with Cirque du Soleil, what is that like?
Grylls
We were training with aerial acrobats. It's a live arena show starts in the UK. It's physical. It's 12 hour days on Bond Stage, the 007 stage in Pinewood, doing stunt training. You see these Cirque du Soleil guys and they make it look easy. And you think I can do that, until you do it. I said to my 13-year-old when I got home, I really hurt. He said maybe over 40 years is not the time. I said 'that's stinking thinking we can do this'.
Gill
I just have to ask you – you're on the Bond Stage – so any chances of seeing you in the next Bond film?
Grylls
Never say never. But yes, not right now. We're focused on Endeavour.