Putin offers support and comfort in Samarkand
Comments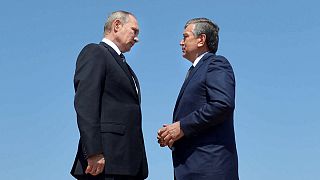 Russian President Vladimir Putin has arrived in Uzbekistan for his first visit since the death of longtime President Islam Karimov.
Having sent his prime minsiter Dimtry Medvedev to Karimov's funeral, Putin came with an appeal for continuity in bilateral relations. Putin urged whoever succeeded the longtime ruler to continue with the same policies.
He also offered a more personal message to Karimov's family.
Russia is the former imperial power of the former Soviet Socialist Republic.
"From our side we will do everything to maintain the direction of our mutual development, to support the people of Uzbekistan, the Uzbek leaders. You can count on us, we are your true friends," he said.
Putin's meeting with Prime Minister Shavkat Mirziyoyev and his cabinet appears to confirm the prime minister's frontrunner status as next president. This was established when he took on the highly symbolic job of overseeing Karimov's funeral, seen as the duty of the successor.