Spain: Wildfires rage on the Costa Blanca
Comments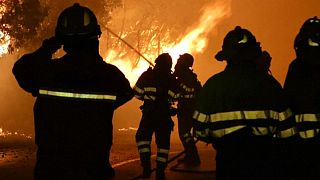 Three separate wildfires have been raging along Spain's Costa Blanca since Sunday.
The fires, which authorities say were started deliberately, have been aggravated by soaring 42-degree celcius temperatures and strong winds.
Buildings in the town of Javea and large areas of vegetation near the holiday destination of Benidorm were destroyed.
Authorities almost had the first fire beaten when the others began.
FULLSTORY: Hundreds Of Holidaymakers Evacuated As Wildfire Threatens Seaside Town Of Javeahttps://t.co/pVhwa0PunCpic.twitter.com/Kd1nLrcZ5n

— The Spain Report (@thespainreport) September 4, 2016
Forestry agent Paco Soler told reporters: "We thought that that fire was almost under control, the air support withdrew and we started to pack up, but then there was another flare-up. It is a pity because the original fire has now extended to where this flare-up is now."
Such sad news about the wildfires in Javea, Spain. Hope everyone there is keeping safe. pic.twitter.com/e5V49wliqz

— Simon English (@simonenglish) September 4, 2016
Though there are no reports of any serious injuries at the moment, 1,000 residents and tourists have been forced to flee with 300 staying in emergency shelters.
Red Cross chief Jose Luis Domenech was thankful it was not worse: "We haven't had serious health emergencies. We had to evacuate people who were walking on the street with their suitcases and fleeing from the wildfire. We have evacuated a lot of people and are still doing so. But as far as health-related emergencies, we have only had a case of smoke intoxication requiring hospital attention and little else."
The head of Valencia's emergency services, Jose Maria Angel, said that the fires were set deliberately on the hottest day of the year.