Brazil riot police use tear gas as post impeachment protests turn violent
Comments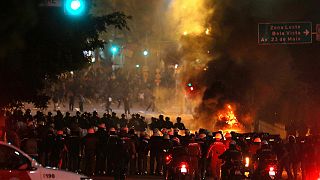 The impeachment of President Rousseff has sparked both pro and anti rallies in several cities across the country.
In Sao Paulo her supporters came out onto the streets commiserating with each other, accusing congress of "being out of touch with the people".
"The 61 votes show that congress is not representative of the Brazilian population, and this type of movement is so important because we are showing Brazil what we want, and that this government does not represent us," said one Rousseff supporter.
Elsewhere it was celebration time. Rousseff's removal has been a long time coming for many of her critics and they hope her going will pave the way for a change of fortunes for Brazil.
"After almost two years of the street movement backing impeachment, we have victory, so today we are holding a small celebration in the definitive removal of Dilma Rousseff."
O BRASIL É FORATEMER
Milhares tomam as ruas em todos os cantos do país. #ForaTemer#LutarSemprepic.twitter.com/JSqLhT2ufz

— Midia

NINJA

(@MidiaNINJA) September 1, 2016
But what began peacefully later turned violent.
Anti riot police used tear gas and even stun grenades to break up crowds of what they identified as Rousseff supporters.
Bank windows and shop fronts were smashed in.
At one point, a group of protesters threw rocks at a police SUV, shattering its windows before attempting to roll it over.
Witnesses say the violence began when demonstrators were prevented from gathering outside the offices of a major newspaper. Some Rousseff supporters accuse the media of backing the ousted president's right wing opponents.