'We will all fight', Brazil's ousted President Rousseff to appeal impeachment
Comments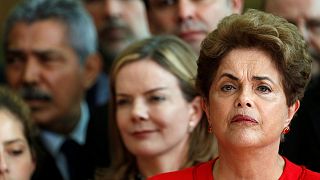 Out but not down, Brazil's ousted President Dilma Rousseff has pledged to appeal her impeachment.
Speaking after the senate vote, she denies any wrongdoing and reiterated that the decision to remove her for breaking budgetary rules was tantamount to a coup backed by the economic elite.
"They've just toppled the first elected woman president of Brazil, without any constitutional justification for this impeachment," said Rousseff in a statement just hours after the vote.
The conservative Michel Temer will now see out the rest of her presidential term through to 2018. Rousseff called on supporters of her Workers Party to put up a fight.
"They think they've won, but they're wrong. I know we will all fight. They will face the strongest and most energetic opposition that a 'putshist' government can face," she told supporters.
Senators voted 61-20 to convict Rousseff, marking an end to her more than five years in office and 13 years of Workers Party rule.
The end to leftist government also sparked anger in other left-leaning adminstrations. Venezuela Bolivia and Ecuador announced they would recall their ambassadors.