Temer officially sworn in as Brazilian president
Comments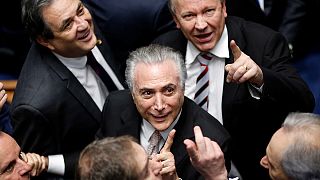 Conservative Michel Temer has been officially sworn in as Brazil's president, after the Senate voted to impeach Dilma Rousseff.
He had already been holding the reigns during the proceedings and now he will serve out the remainder of Rousseff's term, through to 2018.
BREAKING: Michel Temer sworn in as Brazil's president after Senate vote to remove President Dilma Rousseff from office.

— The Associated Press (@AP) 31 August 2016
UPDATE: Brazil's Michel Temer sworn in as president with mandate until end of 2018 pic.twitter.com/ZRuil1672l

— Reuters Top News (@Reuters) 31 August 2016
Temer's vowed to boost an economy that has shrunk for six consecutive quarters and bring in austerity measures, to plug a record budget deficit.
But he is likely to face bitter political opposition from the Workers Party.
There are also signs of clear resistance in Congress to Temer's proposals to cap public spending and reform public pensions.
Alongside this, Temer's government risks entanglement in a sweeping investigation of kickbacks at state oil company Petrobras, that already ensnared dozens of politicians in Rousseff's coalition.
The scandal, which has tarnished Temer's fractious Brazilian Democratic Movement Party, could hobble efforts to stabilise Brazil and restore confidence in its economy.