Police officer saves man from train tracks in dramatic near-miss
Comments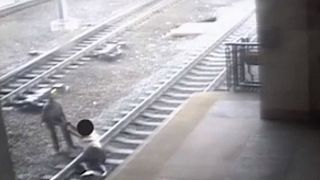 A police officer from New Jersey in the United States is being hailed a hero after saving a man from train tracks with seconds to spare.
Transit officer Victor Ortiz struggled with the man, who is reported to have repeated 'I just want to die', before pulling him free just as the train pulled into the station.
NJ transit officials said they were proud of the officer and hoped his actions would draw attention to the work of the police.