Somalia: at least 22 dead in car bomb explosion near presidential palace
Comments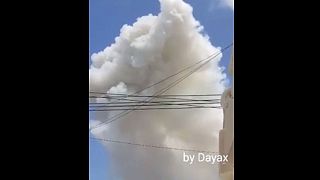 A car bomb has exploded near the presidential palace in Mogadishu, Somalia, killing at least 22 soldiers and civilians, officials say.
The blast, which has been claimed by the militant group Al-Shabaab, partly destroyed two nearby hotels.
"A suicide car bomb exploded outside the presidential palace. So far two hotels opposite the palace are partially destroyed," Major Mohamed Ali, a police officer, told Reuters by phone.
In one of them – the SYL – a meeting of security officials was taking place as the device exploded, Somalia's Information Minister confirmed. One minister and some state radio journalists were reportedly among at least 55 people injured.
Frequented by government officials, the SYL is believed to have been the intended target of the attack.