Dozens dead as Turkey targets Kurdish militias in Syria
Comments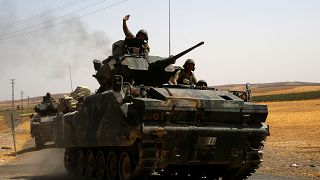 Turkish shelling and airstrikes have killed at least 25 people in northern Syria near the border city of Jarablus.
Turkey said the dead were Kurdish YPG militants.
A monitoring group has countered that claim, however, reporting nearly 40 killed, the majority of which were civilians.
Despite the differing accounts, the strikes and number of casualties mark a clear escalation in Ankara's military operations inside Syria.
Turkey launched its offensive against ISIL and Kurdish militias on Wednesday. Jarablus, which was held by ISIL has fallen. But, so far Kurdish forces appear to have borne the brunt of Ankara's incursion as it seeks to stop the Kurds controlling a swath of territory along its border.
That latest fighting came after suspected Kurdish fighters launched rockets at an airport in the southeastern Turkish city of Diyarbakir.
Four rockets were fired at a police checkpoint, though no casualties were reported.