Turkey scales up Syrian offensive
Comments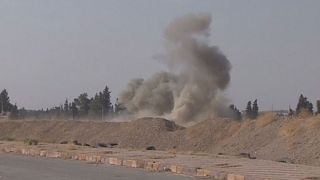 Turkey has scaled up its cross-border offensive inside northern Syria, launching airstrikes and artillery against both ISIL and Kurdish forces south of the strategic town of Jarablus.
Two Turkish F-16 fighter jets reportedly hit sites controlled by Kurdish YPG militia on Saturday. Several targets held by so called Islamic State were also struck.
Earlier, Ankara also confirmed its first fatality following its move to send ground forces inside Syria on Wednesday. At least one soldier was killed and three others wounded on Saturday, Turkish security sources said.
The military operation is widely seen as a bid by Ankara to prevent the YPG, which has close links to the Kurdistan Workers Party, or PKK, from gaining a continuous stretch of Syrian territory along its border between Jarablus and Manbij.
Already engulfed by a Kurdish insurgency back home, the Turkish government fears the PKK could use Syria soil to launch a further wave of terror attacks on its territory.
Turkish backed Syrian rebels seized Jarablus this week after a lightening air and ground offensive.
Earlier Turkey's army released footage showing the distribution of the first batch of humanitarian aid inside the border town.