US and Russia report progress but no deal reached on Syria
Comments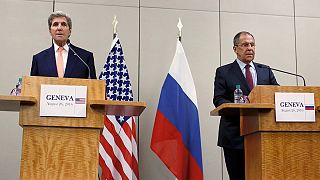 The US and Russia have made progress on a deal to restore a truce in Syria but failed to make a breakthrough on military cooperation and a cessation of hostilities.
American Secretary of State John Kerry told the press in Geneva that the vast majority of technical discussions had been completed but details had to be worked out.
"We don't want to have a deal for the sake of a deal. We want to have something done that is effective and that works for the people of Syria, that makes the region more stable and secure, and that brings us to the table here in Geneva to find a political solution."
It's unclear whether Washington and Moscow could overcome the final hurdles, as both support opposing sides in the conflict.
"We agreed the specific areas on which we will work with the parties of the conflict. Russia will work with the Syrian government, the United States will work with the opposition," announced Lavrov.
The future of Russian-back Syrian president Bashar al-Assad was not part of the talks, discussions were focused on a political transition.
Kerry sees the plan as the best chance of limiting fighting which has displaced thousands and prevented crucial humanitarian aid from reaching those in need.