Exclusive: France is the most likely country to follow Britain in voting to quit the European Union amid a 'bankruptcy of ideas' about how to tackle its well-placed Eurosceptics, experts say, two mont
Exclusive: France is the most likely country to follow Britain in voting to quit the European Union amid a 'bankruptcy of ideas' about how to tackle its well-placed Eurosceptics, experts say, two months on from Brexit.
Economic woes, terrorist attacks and the re-emergence of Nicolas Sarkozy could all play into the hands of Marine Le Pen at next year's presidential elections, according to Euroscepticism specialist Simon Usherwood, providing the conditions that could open the door to a referendum similar to that held across the channel in June.
Which country is most likely to follow Britain + vote to quit EU?

Read more: https://t.co/Hjl1l6gqSf

Please RT

— Chris Harris (@lyonanglais) August 23, 2016
Experts have also ranked The Netherlands, Denmark, Italy and Austria as being the most probable countries behind France to push for, or get, a new relationship with Brussels.
But they caution Britain's particular circumstances are not easily repeatable elsewhere and multiple elements would have to fall into place for a referendum to happen.
Some believe we are more likely to see countries openly ignore EU policy but remain inside the bloc, than pushing for polls on whether to leave.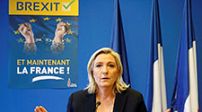 Le Pen: pushing for EU vote in France.
EU: Je t'aime, moi non plus?
Le Pen, leader of the far-right Front National (FN) party, was one of several Eurosceptic leaders to call for similar referendums in the immediate wake of Brexit.
And with reason, it would seem: a TNS Sofres survey released just days after the UK vote revealed 45 percent of those polled wanted a similar EU referendum in France, with 44 percent against.
Le Pen is now hoping to make that a reality by triumphing in the French presidential elections, set for April and May 2017.
"The country where we are going to see the biggest push is France," Usherwood told Euronews. "We've got Marine Le Pen who is looking very well-placed for the presidential elections.
"If you look at the two main parties in France, none of them look in great condition. Hollande has been a very big disappointment for the left, he's not been able to build on his reputation in the wake of the various terrorist attacks. When the most credible opponent to Le Pen is Sarkozy coming back to re-energise the centre-right, that doesn't look like new politics."
History may also boost Le Pen: the French only narrowly approved the Maastricht Treaty in a 1992 referendum (51 percent – 49 percent), while voters rejected establishing a European constitution in 2005.
But the past may also continue to haunt her: FN has been on the verge of political breakthroughs before, only to be kept out in the second round of voting.
"While polls suggest she would be defeated in the second-round run-off by a more modest conservative challenger, centre-left voters who are fed-up with austerity, the political establishment and German dominance may yet rally behind her," said Philippe Legrain, former economic advisor to the president of the European Commission.
The narrative that the FN is likely to be defeated in the final round of polling is repeated by other experts, but Usherwood, a senior lecturer at the University of Surrey, thinks that would not be the end of the story.
"Even if we don't have an EU referendum coming out of the presidential elections next year, you have to imagine that over the next five to ten years there will be a lot more pressure on countries to go down this path, particularly if the UK looks likes it doing okay [outside the EU]," he said.
Longer shots for leaving?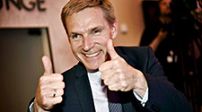 Kristian Thulesen Dahl heads up Denmark's Eurosceptic party.
Denmark leads the pack of other countries behind France – which includes Italy, The Netherlands and Austria – where Euroscepticism could leave its mark, according to Usherwood.
He says Denmark's position on the fringes of the EU project; its economic ties to the UK economy; and the strength of Eurosceptics -, the Danish People's Party (DPP) – in the parliament, are factors to support this.
The Danes have also voted against the EU in three referendums in 1992, 2000 and 2015.
But while DPP holds the balance of power in Denmark's coalition government, it's unclear, if they push for a referendum, whether it will be for leaving the EU or just re-negotiating membership terms.
"You have seen a certain turning in of Danish politics in recent years, it's not as open and friendly as it has been." said Usherwood "There are the preconditions for a much more negative turn as we go along. It's going to depend how much the Danish coalitions can hang together as they go along."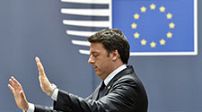 Has Renzi opened the door to Italy's Eurosceptics?
Italy, famous for the instability of its governments, could also see Eurosceptics come to power and push for a referendum on the country's eurozone membership.
Prime minister Matteo Renzi has admitted he made a mistake by saying he would quit if he lost a referendum on Italy's constitution, set to take place between October and December. If Renzi loses, and resigns, that could see the country's Eurosceptic Five Star Movement (FSM), which won a landslide victory in recent local elections, capitalise in any subsequent national vote.
"If you look at levels of political discontent and frustration and you look at levels of anti-immigrant, anti-Muslim sentiment, you look at levels of hostility to the EU, they are incredibly high in Italy," said Dr Seán Hanley, a senior lecturer in comparative central and east European politics at University College London.
Yet despite growing support for a Eurosceptic party in Italy, Usherwood has poured cold water on it pushing for an EU referendum, even if it does get into power.
"If you have a collapse of the Renzi government that puts a lot of pressure back on the banking sector," he said. "I think the economic dangers look so significant that it's going to put a big brake on that [the appetite for leaving the EU]."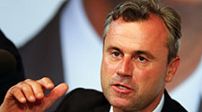 Hofer – hoping to be Austria's next president
Like Italy, the autumn could be a defining season in Austria, where the far-right candidate Norbert Hofer is leading polls ahead of a re-run of the country's presidential elections.
Hofer's Freedom Party is clearly tapping into voters' Euroscepticism. A Eurobarometer survey this spring on views of the EU revealed 37 percent of Austrians surveyed had a negative outlook on Brussels, the third highest level in the bloc.
Usherwood says even if Hofer wins, he would not have the power as president to call for a referendum, but it may spark more talk of one ahead of parliamentary elections.
He added: "I think what you're going to see is Austria is still going to carry on being a difficult partner in the EU, they might calculate it's best to keep campaigning for less free movement and reducing their exposure in the eurozone, and that it's better to do that on the inside rather than on the outside."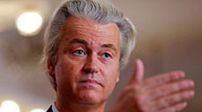 Wilders' party set to do well at next election.
The Netherlands is another of the EU's founding fathers with a strong Eurosceptic party and a looming national vote.
The Dutch are set for a general election in March 2017; Geert Wilders' far-right Freedom Party (FP) was leading opinion polls in June.
But Hanley says the system of proportional representation voting that helps give a voice to outsider parties like FP, could also be the mechanism that stops it. The setup means the Netherlands relies on coalition governments and it is doubtful whether other mainstream parties, especially in the light of Brexit, are prepared to indulge Wilders.
"It doesn't seem the same dynamic as France where there seems to be a bankruptcy of ideas about what to do," said Usherwood. "In the Dutch case the other parties do seem a bit more able to come up with other strategies and draw on a stronger liberal, cosmopolitan tradition."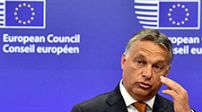 Is the Orban way the future for Eurosceptics?
Leave the EU or imitate Orban
A direct imitation of Brexit is arguably the most obvious and desirable direction for most Eurosceptic leaders.
But it might not be realistic or possible, argues Hanley, who says talk of the 'Brexit contagion' has been overstated.
Instead, he says, Eurosceptics may follow the model of Hungary's prime minister Viktor Orbán, who has picked a fight with the EU over aspects of its policy, such as the resettling of migrants.
Hanley added: "Rather than a rush to the door and a sudden break-up [of the EU], I would see a scenario more of unravelling, a kind of inertia, some countries selectively not implementing EU policy, like in Poland and Hungary.
"They're not planning to leave, but they are planning to selectively ignore aspects of policy and see if the EU does anything and they haven't so far.
"I think if I was Le Pen or another national populist politician I would be looking at what they [Hungary, Poland] are doing and thinking 'well maybe we can do this'. And western European governments have already done it, to some extent, not in areas of governance and human rights, they've done it slightly more on the sly in relation to budget deficits (eg France)."
What's next? Key dates on whether the Brexit contagion will spread
Italy constitutional referendum: October to December 2016
French presidential elections: April/May 2017
Dutch general election: March 2017
Austrian presidential election re-run: October 2, 2016
Listen to the full interview with Simon Usherwood
The evolution of Euroscepticism in selected EU states
This shows the percentage of respondents who had a negative view of the European Union. Source: Eurobarometer
Euroscepticism versus length of EU membership
This shows the percentage of respondents who had a negative view of the European Union in spring 2016, against the year the country joined the EU. Source: Eurobarometer