Obama visits Louisiana flood victims
Comments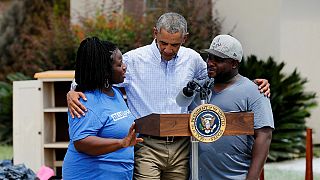 The US president said people living in the state of Louisiana have had their lives upended by devastating flooding.
About 60,000 homes have been damaged and at least thirteen people lost their lives in the floods.
Barack Obama was visiting one of the affected neighbourhoods in Baton Rouge.
"I want the people of Louisana to know is that you are not alone on this even after the TV cameras leave the whole country is going to support you and help you until we get folks back in their homes and lives are rebuilt….
I need all Americans to stay focused on this. If you are watching this today, make sure that you find out how you can help : you go to volunteers Louisiana.gov."
Roads resembled rivers after heavy rains unleashed unprecedented torrents of water: 76cm.
It's been described as the worst disaster to hit the United States since 2012's Hurricane Sandy.