PKK admits it planted Elazig bomb in Turkey
Comments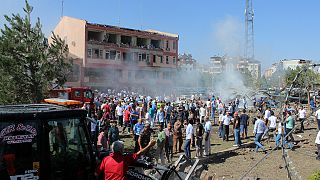 An estimated 2,000 demonstrators have taken to the streets of a city in eastern Turkey.
A car bomb exploded outside the police headquarters in Elazig on Thursday.
At least five people died and 146 were injured, 14 seriously.
The authorities say the attack was carried out by the Kurdistan Worker's Party or PKK.
The group has waged a campaign of car bombings targeting police stations and roadside bomb attacks against security personnel.
Last week, PKK commander Cemil Bayik threatened to increase attacks against police in Turkish cities.
Memorial service
A memorial service has been held for three of the victims of Thursday's car bombing.
Tributes were paid to police officers Yusuf Kenan Mutlu, Serhat Ozturk and Elvan Ozbay.
Turkey's state news agency Anadolou said their coffins would be taken back to their home towns for burial.
Two further attacks
There were two other attacks in Turkey on Thursday.
Three people were killed and 40 injured when a car bomb exploded near a police station in Turkey's eastern province of Van, near the Iranian border.
A total of 14 people were killed and more than 220 wounded.