Turkey's Erdogan blames Gulen supporters over latest bombings
Comments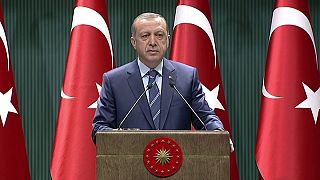 Turkey's president has accused followers of US-based cleric Fethullah Gulen of being involved in the latest bombings to hit the country.
Europe didn't understand and it seems they won't understand our struggle

Turkish President
Recep Tayyip Erdogan says Turkey is facing joint attacks by various terrorist organisations, who act together.
He claims Gulen supporters were complicit in the blasts, blamed on Kurdish militants.
"This attack shows that there is no difference between PKK, ISIS and the Gulenist organisation. They are all working for the same goal," said Erdogan, as he addressed representatives of Muslim non-governmental organisations in Ankara.
Ankara points the finger at Gulen for last month's failed coup. He denies involvement.
Erdogan is piling pressure on the US to extradite Gulen, who is in self-imposed exile there.
He says Washington, as a strategic partner, should facilitate the transfer.
Thousands have been detained or dismissed in a massive purge since the coup attempt -a move Western allies fear is being used to crack down on broader dissent.
"Europe didn't understand and it seems they won't understand our struggle. We know that they are not honest towards us. We will not step back from our military and police as well as judicial operations. We will keep conducting our operations," said Erdogan.
Meanwhile, Turkish authorities have now ordered the detention of almost 200 people, including leading businessman, and seized their assets, as the focus shifts to the private sector.
Erdogan has vowed to choke off businesses linked to Gulen.
BREAKING: Turkish gov't detains 187 business people who are known to be critical to President Erdogan. – Sabah</a> <a href="https://t.co/LNANXrAFtt">pic.twitter.com/LNANXrAFtt</a></p>&mdash; Vocal Europe (thevocaleurope) 18 August 2016