Miller dive for 400m gold 'not part of the game plan'
Comments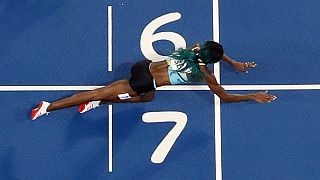 Shaunae Miller produced one of the most spectacular finishes in Olympic track and field on Monday when she dived over the line to beat American Allyson Felix and win gold in the women's 400 metres final.
Miller from the Bahamas launched herself into a headlong dive to deny Felix by seven one hundreths of a second.
On her dramatic finish Miller explained: "Me and my coaches, we went inside the race with a gameplan and we executed it really well, but the last 40 meters my legs got really heavy, lost all feelings. I lost control of my legs, the next thing, you know, I started falling and I was like, 'OK, I see the line, I just gotta make it there.' I started dipping for it and just lost balance and fell across the line. I'm just glad I made it across the line, and I made it across the line in first".
It was far from the elegant victory finish we have come to expect at the Olympics. But it's not all about grace of the human form at the Games, it's what hangs around your neck at the end of it. And in Miller's case it was the shiniest of medals.