Charges after shooting of New York imam and his assistant
Comments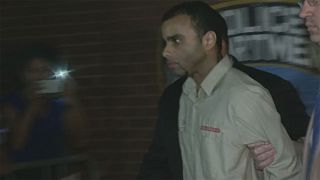 A New York man has been charged in connection with the deaths of a imam and his assistant at the weekend.
35-year-old Oscar Morel of Brooklyn has been charged with two counts of second-degree murder following the deaths of 55-year-old Imam Maulama Akonjee and 64-year-old Thara Uddin.
He has also been charged with two counts of second-degree criminal possession of a weapon.
He was questioned by officers after he was arrested on charges relating to a hit-and-run traffic accident on Saturday.
What happened?
Akonjee and Uddin were shot in the head at close range after Saturday prayers at the Al-Furqan Jame Mosque in the Ozone Park area of the New York suburb of Queens.
Is the community concerned?
Yes.
The killings have shocked the neighbourhood's Bangladeshi community.
Residents of Ozone Park were shaken by the attack, which happened in broad daylight.
Speakers at the mens' funerals implored the authorities to investigate the murders as hate crimes.
They called for efforts to protect mosques and Muslim neighbourhoods to be stepped up.
In tweets
Suspect – Oscar Morel of #Brooklyn – charged w/ murders of #Queens imam and friend. What was the motive? #NBC4NYpic.twitter.com/ODMnlrDX3E

— Katherine Creag (katcreag4NY) <a href="https://twitter.com/katcreag4NY/status/765477146773098497">August 16, 2016</a></blockquote> <script async src="//platform.twitter.com/widgets.js" charset="utf-8"></script> </p> <p> <blockquote class="twitter-tweet" data-lang="en"align="center"><p lang="en" dir="ltr"><a href="https://twitter.com/hashtag/NYC?src=hash">#NYC</a> Queens Imam Shot In The Head And Another In The Chest Near Ozone... <a href="https://t.co/jWXbGCtKWa">https://t.co/jWXbGCtKWa</a></p>&mdash; Brooklyn daily post (epeakbrooklyn) August 14, 2016
#NYC Imam, Assistant Shot In Queens In Alleged Hate Crime… https://t.co/k548YsKZ8z

— Brooklyn daily post (epeakbrooklyn) <a href="https://twitter.com/epeakbrooklyn/status/764839077132853248">August 14, 2016</a></blockquote> <script async src="//platform.twitter.com/widgets.js" charset="utf-8"></script> </p> <p> <blockquote class="twitter-tweet" data-lang="en"align="center"><p lang="en" dir="ltr">Members of Queens mosque demand justice after shooting of imam <a href="https://t.co/f135H87h9F">https://t.co/f135H87h9F</a> <a href="https://twitter.com/hashtag/Nets?src=hash">#Nets</a> <a href="https://twitter.com/hashtag/NBA?src=hash">#NBA</a> <a href="https://t.co/ZNFOM2fSce">pic.twitter.com/ZNFOM2fSce</a></p>&mdash; Brooklyn Nets News (BBall_Nets_News) August 14, 2016