Portuguese firefighters continue to battle wildfires
Comments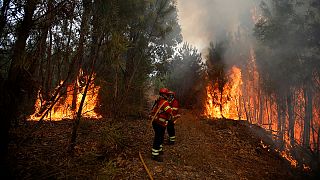 Firefighters have been battling wildfires for more than a week in Portugal.
One of the most stubborn fires near Sao Pedro do Sul has now been brought under control.
Fueled by high temperatures and strong winds, the authorities counted more than 300 separate fires burning on Sunday.
Police believe the fires may have been deliberately started by arsonists. Several suspects have been arrested.
On the island of Madeira, the fires which are under control, killed three people and forced hundreds to flee their homes.