Fighting in Syria intensifies as rebels and regime forces battle for Aleppo
Comments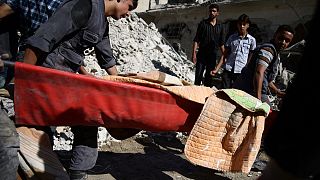 There has been heavy fighting in Aleppo as Syrian government forces and rebels battle for control of the city.
Over the last 24 hours an increase in airstrikes carried out by the Syrian regime and its ally Russia are also said to have have left scores dead in the region and in Idlib province.
The British based Syrian Observatory for Human Rights reports nearly 70 civilian deaths.
Meanwhile a suicide bomb blast at Atmeh in the north of the country has claimed at least 15 lives and injured 25 others.
But in Manbij, in Aleppo province near the Turkish border, people have been celebrating following their liberation from ISIL. On Friday Syrian Democratic Forces (SDF) said they had freed over 2,000 civilian hostages who had been held by the militants.
#Manbij .#SDF forces cleansing the city from #ISIS explosives.#Rojava#Kurdistan#YPG#YPJ
. pic.twitter.com/LEGXF6wWMQ

— Civil Defence Units (@DefenceUnits) August 13, 2016