Thailand mourns as police hunt for bomb blast suspects
Comments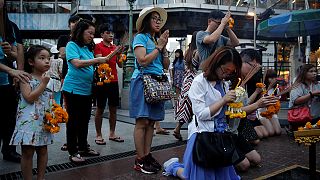 The usually bustling streets of Hua Hin are almost empty.
The day after a series of bombings in Thailand only mourners gather at the site where two people lost their lives.
In total, eleven bombs were detonated in five southern provinces, killing four people and wounding dozens more.
The attacks came on a holiday weekend and targeted tourist hot spots. It would have been a major trading weekend for those working in the industry. For many businesses in Hua Hin, tourism is the main source of income.
One local visiting the beach told reporters she was worried for the country's future, saying "I think it will affect the economy because it was already down".
The hunt for the suspects is underway. No group has claimed responsibility, but police are pointing the finger at local dissidents.
The blasts came just days after Thailand voted to accept a military-backed constitution. Some say opponents could be responsible for the violence. Suspicions are also likely to fall on separatists insurgents in the south.