Ceasefire 'urgently needed' in Aleppo - UN
Comments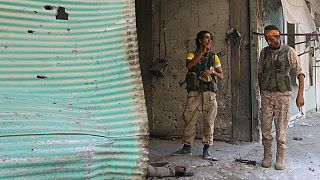 Ceasefire "urgently needed in Aleppo" – UN
Millions have no access to fresh water or electricity
Children particularly vulnerable –

UNICEF

Ceasefire needed in Aleppo – UN
The United Nations is calling for an urgent humanitarian ceasefire to be established in the Syrian city of Aleppo.
The UN says two million residents have been left without access to running water or electricity after attacks hit civilian infrastructure last week.
We are very concerned about deteriorating situation and restricted access in #Aleppo Syria https://t.co/pctCY4Locspic.twitter.com/w5tQH8xa9d

— UN Refugee Agency (@Refugees) August 9, 2016
Access is needed to deliver food and medical supplies and for technicians to repair electricity networks that drive water-pumping stations.
They were heavily-damaged in attacks on civilian infrastructure last week.
"The UN urgently calls for a humanitarian pause in the fighting in Aleppo to enable immediate access to repair the electricity and water networks and provide humanitarian assistance to people in need," said OCHA spokesperson Jens Laerke.
The Aleppo crisis in numbers
2,000,000 – people without running water or electricity
325,000 – people for whome aid agencies are delivering water in Western Aleppo every day
275,000 – people trapped in eastern Aleppo
10 – confirmed attacks on health facilities in July
35 – medical doctors left in Aleppo

Emergency drinking water
UNICEF, the UN agency for children, has warned of the risks for the young.
Young children are especially vulnerable to diarrhoea and other water-borne diseases from a heatwave and from drinking dirty water.
Children in #Aleppo are at grave risk of disease unless water supplies are immediately repaired UNICEF</a> <a href="https://t.co/usbDFiDu7t">https://t.co/usbDFiDu7t</a></p>&mdash; Justin Forsyth (justinforsyth) August 9, 2016
.UNICEFmena</a> has scaled up its water trucking, delivering emergency drinking water for 200,000 people in <a href="https://twitter.com/hashtag/Aleppo?src=hash">#Aleppo</a> <a href="https://t.co/oc9HWmch10">pic.twitter.com/oc9HWmch10</a></p>&mdash; Unicef UK (UNICEF_uk) August 8, 2016
UNICEF and other aid agencies are trucking in emergency drinking water for an estimated 325,000 people in western Aleppo every day.
Access to healthcare
Aleppo's sick and wounded also lack access to health care.
The World Health Organisation (WHO) says there were at least 10 confirmed attacks on health facilities in the city in July.
"According to health officials in eastern Aleppo, eight out of ten hospitals and 13 out of 28 primary health care centres are partially-functional or out-of-service as a result of those attacks," – WHO spokesperson Tarik Jasarevic told reporters.
"Only 35 medical doctors remain in the city and their capacity to cope with the excess demand has been overwhelmed," Jasarevic added.
Why is this happening?
Because of the ongoing conflict in Syria.
Aleppo, once the country's second city, has strategic importance for both the government and the opposition forces.
It is estimated 275, 000 people are trapped in the east of the city.
Castello Road, the last remaining access route to the opposition-held part of the city, was sealed off by Syrian government forces last month.
On Saturday, opposition fighters severed the main government supply corridor running into the city from the south.
This has raised fears that government-held western Aleppo might in turn become besieged by the opposition.
'What they are saying
"The UN is extremely concerned that the consequences will be dire for millions of civilians if the electricity and water networks are not immediately repaired," UN Coordinator for Syria Yacoub El Hillo and UN regional humanitarian coordinator Kevin Kennedy said in a statement.
"These cuts are coming amid a heatwave, putting children in Aleppo at a grave risk of waterborne diseases. Getting clean water running again cannot wait for the fighting to stop, " – UNICEF spokesperson Christophe Boulierac.