Battle for Aleppo intensifies as rebels and regime troops send in reinforcements
Comments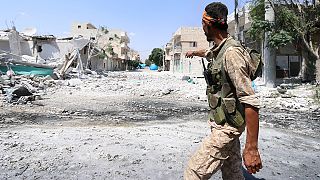 Both rebels and government troops are sending in reinforcements to Aleppo as the long battle for Syria's second city intensifies.
On Saturday, insurgents broke a month-long government siege of eastern parts of the city. They then pushed forward, cutting off government-held territory in the west.
The move was claimed as miraculous by Anas al-Abdah, president of the Syrian National Coalition.
"What has been achieved is almost a miracle, because our fighters are not only facing the Syrian regime but they are also facing the militias, Hezbollah, Iranian militias and Russia… If the international community is ready for political transition we are more than ready to do that. But this readiness, this seriousness, has to be shown in terms of actions, not only in terms of words," he said.
Both sides have everything to fight for. If the government can regain full control of Aleppo it will hold all of Syria's major cities.
Meanwhile it is the civilians who continue to suffer. More than a quarter of a million are trapped in rebel-held parts with only enough food to last until the middle of August.