Video footage released of suspected chlorine gas attack in Syria
Comments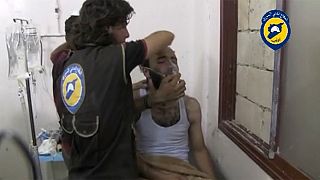 Syrian rebels have released video footage of a suspected chlorine gas attack in Syria.
A doctor and rescuers described how barrels – alleged to contain chlorine gas – were dropped on Saraqeb in Idlib province. About 30 people, mostly women and children, were affected.
The attack happened close to where a Russian military transport helicopter was shot down on Monday, killing five crew. No group has yet claimed responsibility for downing it.
Using chlorine gas in weapons is banned under the Chemical Weapons Convention.
The US was non-committal over whether it had been a gas attack. John Kirby, spokesperson for the US Department of State said: "We`ve seen reports …and I`m not in a position to confirm the veracity of them. Obviously, we`re looking into it as best we can with partners in the region. And certainly, if it`s true it would be extremely serious".
The Kremlin immediately dismissed the claims of a chlorine attack saying they were fabricated by the media.
Meanwhile intense fighting has continued around the Syrian city of Aleppo. A rebel offensive is trying to break the government siege of rebel-held areas.